RealT, the leader in real estate tokenization, WiSEED, the pioneer of crowdfunding in France, and Twenty First Capital, a major player in real estate fund management, announced the creation of a consortium with the ambition to become the leader in the real estate tokenization sector in Europe.
The real estate market is currently facing several challenges. However, one trend that is gaining traction in the midst of this volatility is real estate tokenization. While the real estate market is going through a difficult period, real estate asset tokenization is growing in popularity among investors. These digital tokens, also known as "tokens" can be traded at any time, are highly liquid, and are fully secured via blockchain. They also have the advantage of widening access to real estate investment with a low entry ticket of just a few tens of euros.
The real estate tokenization market is estimated to be worth around $300 billion today. Estimated to be around 300 billion dollars worldwide today, this market could exceed 1,000 billion dollars in 2024 and approach 4,000 billion by 2029, offering significant development prospects in France and more broadly in Europe. To achieve this, four key factors must be combined: regulation, technology, real estate expertise, and community.
Three reference actors join forces to structure the market
With complementary expertise on these subjects and status as reference players in their respective fields, RealT, WiSEED and Twenty First Capital have decided to join forces to create a consortium. Their common goal: to become the leader in the real estate tokenization sector in Europe.
In this context, RealT, a pioneer and global leader in real estate tokenization, will bring its experience, skills, technological innovations, and international dimension thanks to the strength of its community, which has 65,000 members spread across 154 countries.
Furthermore, RealT's adherence to the DLT Pilot Regime, in cooperation with the regulator, will enable it to apply its disruptive technologies to European offerings.
WiSEED, pioneer in crowdfunding, particularly real estate, in France, will contribute its skills in project selection and regulatory compliance. With the status of an Investment Services Provider (ISP) and soon to be a Crowdfunding Services Provider (CSP), the crowdfunding platform also plans to join the DLT Pilot Regime. This allows, among other things, the experimentation of a secondary market as well as blockchain, and the tokenization of real assets.
Finally, Twenty First Capital, which manages nearly 2 billion euros of real estate assets under management and 16 funds, will contribute its recognized and proven experience in real estate investment and its in-depth knowledge of all market segments to the consortium.
Consortium operation scheme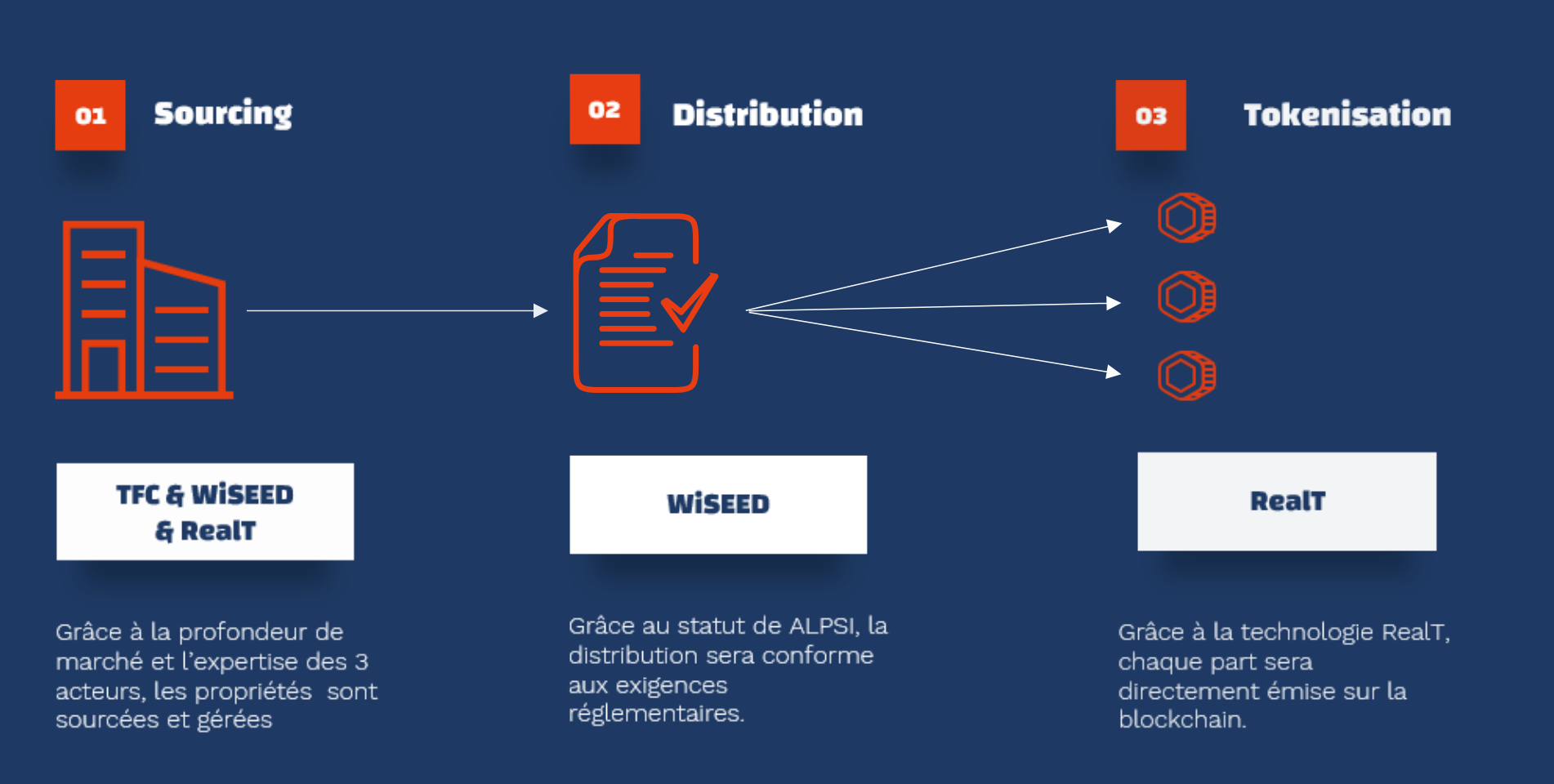 Jean-Marc Jacobson, co-founder of RealT, states: "After more than a year of rigorous study to design the most robust and secure solution for our investors, I am pleased to announce this new development in real estate tokenization in Europe. With these three recognized actors, each expert in their field, we have brought together in this consortium all the key elements – real estate, regulation, technology, and innovation – to develop tokenization on a large scale. This first major partnership strengthens RealT's vision, which aims to establish strategic collaborations on each continent. An investor can thus diversify his asset portfolio, by buying a fraction of a loft in Chicago, a share of a vacation residence in Panama, and soon, a piece of Paris or Saint-Tropez, all from his smartphone."
Mathilde Iclanzan, General Manager of WiSEED, comments: "I am delighted to be part of this consortium alongside two reference players in their respective sectors, RealT and Twenty First Capital. By merging our historic 'know-how' with the codes of decentralized finance, we have enough assets to be on the front line of the third digital investment revolution. Moreover, this alliance confirms WiSEED's ambition to become the first regulated financing and investment platform in Europe."
Stanislas Bernard, founder of Twenty First Capital, adds: "We are convinced that the future of asset management will involve the tokenization of assets, due to its possibilities for fractionation, liquidity, and disintermediation. The advantages of tokenization are even more evident for illiquid assets such as real estate. That's why we are very pleased with this partnership with the best actors in this field."
—
About WiSEED
WiSEED is a reference player in crowdfunding in France. Specializing in digital investment, the platform offers investors the opportunity to optimize their savings in tangible impact assets in the form of bonds, shares or participatory securities, and offers unlisted companies fast, flexible, and innovative financing solutions. Since its creation in 2008, WiSEED has collected €450M for nearly 1,000 projects from more than 200,000 members of its community. Licensed as an investment company by the ACPR, WiSEED is the first French platform to have the status of an Investment Services Provider (ISP).
For more information – www.wiseed.com
About Twenty First Capital
Twenty First Capital was created in August 2011 by Stanislas Bernard. It is one of the few independent asset management companies to be "multi-asset" and "multi-expertise". Thanks to its "multi-specialist" infrastructure and entrepreneurial spirit, the company aims to federate talents to offer a range of specialized funds on the main asset classes: equities, rates, credit, commodities, alternative, private equity…
In January 2015, Twenty First Capital launched a new real estate fund management activity (OPCI) to take advantage of the new AIFM regulation and be able to complement its offer for its clients.
At the end of December 2022, the company had 17 employees and more than 2.6 billion euros in assets under management, of which 2.2 billion was in real estate activity.
For more information – www.twentyfirstcapital.com