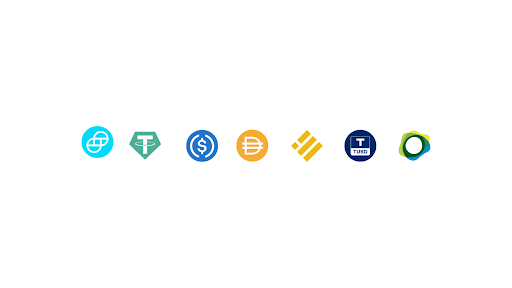 A stablecoin is a cryptocurrency (crypto-active) backed by a fiduciary currency with a parity of 1 to 1. In other words, a stable coin will always have the same value as the real currency on which it is backed. It is the digital version of the dollar or the euro, for example.
What is a stablecoin?
A stablecoin is collateralized on an amount of fiat money, in order to keep a strict equivalence between the money supply of the stablecoin and this deposit. Players such as TrustToken with the TUSD, Circle with the USDC, and Gemini with the GUSD stand out for their compliance efforts and transparency by performing regular audits of their escrow funds.
If we take Tether's model, which represents a centralized company, they assume responsibility for issuing stablecoin (USDT) according to several strict rules. In addition, they must ensure that they have the equity capital to issue new USDT's on the market. This currently leaves some doubts about their equity capital when we know the capitalization of the USDT.
Here is a non-exhaustive list of existing stablecoins:
USDC – US Dollar (Circle & Coinbase)
USDT – US Dollar (Tether)
BUSD – US Dollar (Binance)
PAX – US Dollar (Paxos)
DAI – US Dollar (MakerDAO)
THKD – Hong Kong Dollar (TrustToken)
GUSD – US Dollar (Gemini)
sEUR – Euro (Synthetix)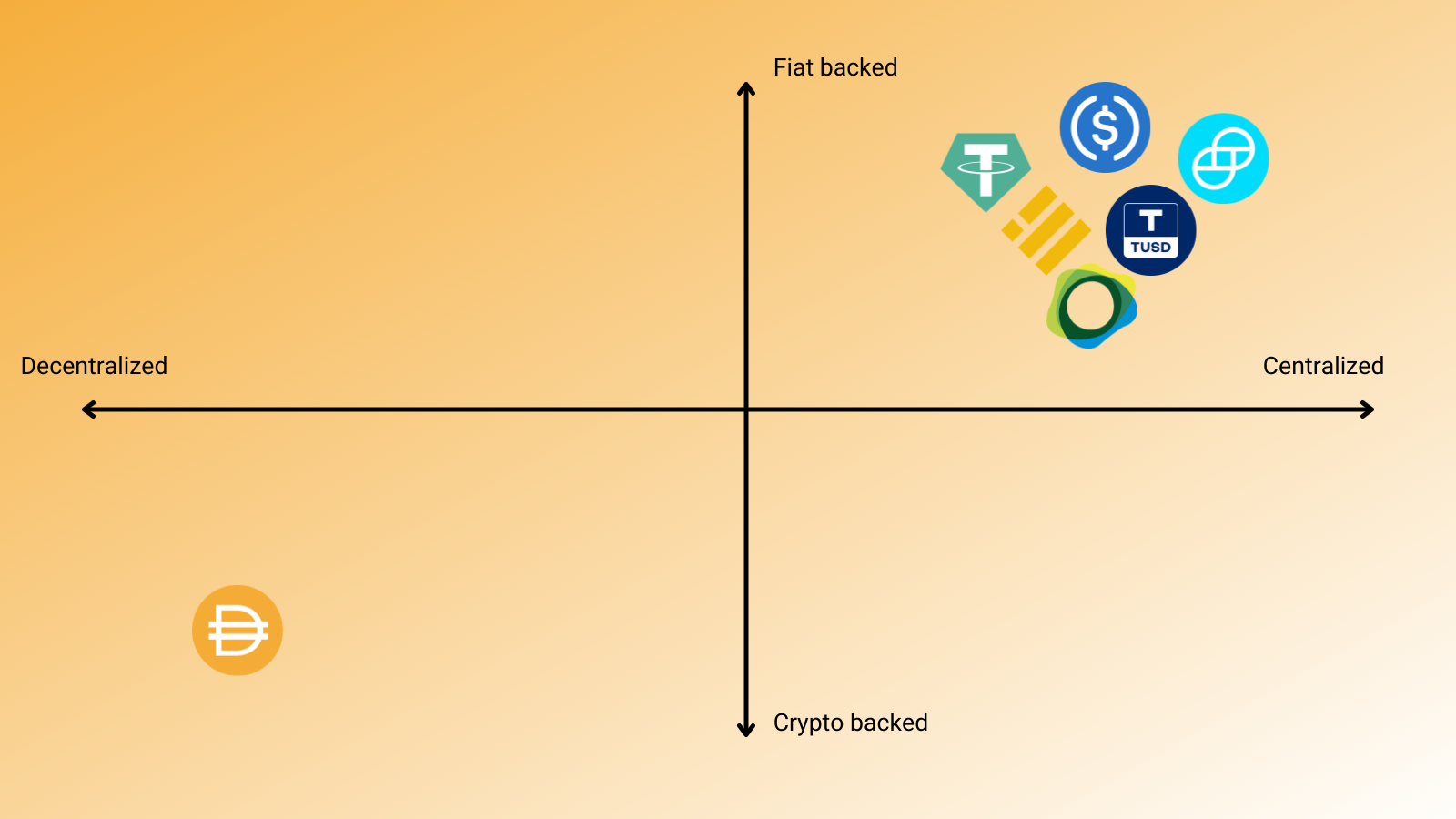 The different types of stablecoins
Collateral

Positive points

Negative points

USDC / USDT

Currency

Low price changes
Low volatility

Centralized
Must be audited

DAI

Cryptocurrency

Decentralized
Easily exchangeable

Higher volatility
Risk on collateralized cryptos

PAXG

Precious metal (gold)

Strong against volatility

Centralized
Must be audited

AMPL

Algorithm 

Fluctuations
Trust the algorithm
The case of the DAI
At the creation of RealT the rents were initially to be paid in DAI, a stablecoin backed by the US dollar and issued by MakerDAO, a decentralized organization to manage the DAI. Its decentralized feature makes it a major asset since it is managed by the user community through the MKR governance token.
In RealT's whitepaper, the DAI is the stable coin used for the payment of rents. However, following the March crash (beginning of the COVID-19 pandemic), the DAI price experienced extreme volatility due to the sudden demand for stablecoin (sale of cryptocurrency in stable coin), which for a while decorrelating the DAI price to the dollar, leading to the liquidation of the MKR tokens.
RealT, therefore, switched to the USDC, another stablecoin operating on the Ethereum blockchain (ERC-20) to pay the rents of the properties. The USDC is a cryptocurrency notably managed by a consortium composed of Circle, Coinbase, and Bitmain, the famous Bitcoin miner builder. Each USDC in circulation is therefore backed by one dollar in Circle's reserves.
The main advantage of the MKR governance token is that it allows its owners to participate in the DAI management process. Each MKR token holder has the right to vote to evolve the Maker protocol according to the number of tokens he has. On the other hand, the use of governance tokens requires more in-depth knowledge of the market and an in-depth understanding of cryptography. In the context of investments in RealT, the use of a stablecoin such as the USDC allows everyone to visualize the value on which it is based and offers services equivalent to those of decentralized cryptocurrency.
The interest of the stablecoins in all this?
The interest on the stablecoins, in particular for the payment of rents, avoids excessive volatility. Nobody wants to see their interest income suddenly melt away because the project on which it is backed is losing momentum. Its principle is fundamentally understandable by everyone: 1USDC = 1 US dollar. Like any good manager, you know that investment never sleeps, so you can easily reinvest your stablecoins in other properties on RealT or through decentralized finance.
Why use stablecoins?
It is a reserve of value and unit of account: in the case of a crypto-backed by a fiduciary currency, or on a precious metal (gold), a stablecoin is the representation of a value managed by central banks.
It is a payment or exchange solution: Today you can buy a property in stablecoin, book a plane ticket, or generate interest with loans.
Through the stablecoins, RealT allows all RealT token holders to pay rent on a stable currency each day.
What to do with your stablecoins?
Exchange/sell them for other crypto-actives, either on a decentralized exchange (swap) or on a centralized exchange.
Buy products or goods with plane tickets, hotel nights, hardware-wallets etc…
Earn interest by lending its stable corners on different platforms, either centralized or decentralized.
Make a loan using these stablecoins as collateral (escrow).
Conclusion
You will have understood that the stablecoins allow you to secure your profits when selling your crypto-actives but also to buy and sell tangible goods such as RealT tokens. In addition to their stable appearance, they also offer prospects of higher returns than fiduciary currencies thanks to DeFi, and crypto-lending applications with interest rates that can rise up to 20% annually.
It is still early to know which path the stablecoins will take, in 1 year, 5 years, or 10 years. It is also known that Central Banks are also working more and more on the development of CBDC (Central Bank Digital Currency), concretely it would be a question of digitizing the fiduciary currency in order to create an e-euro or e-dollar managed this time by a state and not a private consortium.
Article written by Clément from the blog francecrypto.fr which you can also find on Twitter.